This shop has been compensated by Collective Bias, Inc. and its advertiser. All opinions are mine alone. #ThinkOutsideTheWipe #CollectiveBias
Currently I am "hunkered down" in my house in Houston as hurricane Harvey makes his way through the Gulf Coast.  All is well  and I am even afforded some time to get blogging done (thank God for electricity!)  I have been wanting to make toddler daughter Camilla more a part of the preparations for her baby brother's arrival in 5 weeks.  A few weeks ago we finally set up the crib and the dresser in his room, but that's about it.  I thought it would be a great idea for her to make some artwork for his room because 1. the walls are bare and 2. she would feel like she is a part of the process.  Cami loved this simple project and I loved that it gave her something creative to do on a rainy day.
Whenever I consider projects with Cami, I always have to consider the the mess that can possibly be made during and after because #toddlermom! We literally use Huggies® One & Done® Refreshing Wipes for everything!  From sticky hands and runny noses, to wiping of shopping carts and steering wheels, we go through a lot of wipes.  For this particular project I knew that I would need more wipes to wipe off painted fingers and her workspace after the project was finished.  One "mom essential" is to have a Sam's Club membership.  If you don't have one, what are you waiting for?! The  convenience in buying in bulk is priceless!  With baby number 2 on the way I am even more delighted that I will be getting more bang for my buck. Right now Sam's Club is offering $8 off the purchase of any 2 Huggies products, valid 8/23 – 9/17 or while supplies last!  This was music to my ears! Interested in using Huggies® One and Done® Wipes in your next creative adventure? Hover over the photo to click through to Samsclub.com and buy them!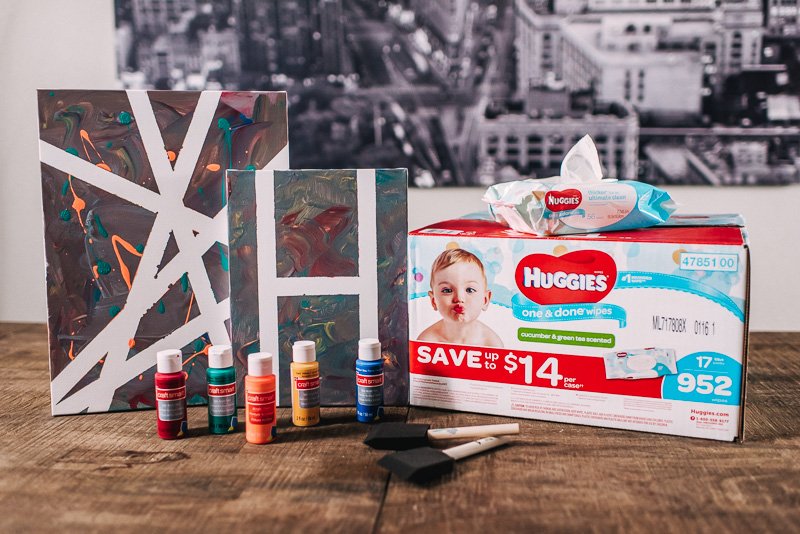 Materials:
Canvas
Painter's Tape
Assorted Paint Colors (we stuck with colors that we are using in the baby's room)
Paint Brushes (we used sponge brushes)
Instructions:
Before Cami got to work, I taped off the canvas with the painter's tape in a funky design.  You can do something more  geometric like a chevron pattern or stripes, but I wanted something more abstract for out son's "space" themed room. I also taped off two other smaller canvases with his initials H.B.
Like I said…this girl was excited to be a part of the "getting ready for the new baby" process.  I put her in an old shirt that I didn't mind her getting paint on.
I then filled a paper plate with the different paint colors.  Again, I used colors that went with the baby's room.
And then she was ready to go to town on the canvas.  One great thing about this project is that your kids can be as creative as they want to be.  Cami was all about combining all the colors and that was fine by me.  The only guidance I gave was that she needed to make sure all the white spaces were filled.
When the project was over it was clean up time, which was a breeze.  Cami already knew the routine because as I mentioned before, we use wipes for everything around our house!  We wiped down her hands, my hands, and her high chair table which gave us the ultimate clean that you get from thick wipes like Huggies One & Done.
Once Cami was finished painting her 3 canvases I used my blow dryer to speed up the drying process.  Naturally it's hard for toddlers to wait for anything!  Also, I was kind of excited to see how it was going to turn out too, haha!
Once the canvas was dry and we peeled off the painter's tape, we loved the finished product!  The one thing that I would recommend is to have white paint as well for if the paint bleeds through the tape.  We had a little of that happen which I will touch up with the white paint before getting these masterpieces framed and hung.